It was D-day for Microsoft Surface, as its much-awaited debut finally created history in a Las Vegas casino bar. It was a perfect party night for revelers who just could not stop gushing at the hi-tech tabletop computer, which entertained guests over food and spirits.
And all this has been possible because of Harrah's Entertainment Inc, which commissioned six Microsoft Surface computers tailor-made for a bar at its Rio All-Suite Hotel & Casino. A Harrah's spokesperson confirmed that it has customized the software to be installed in the casino bar and fitted it with cameras to give real life experience to the guests who could order drinks, create cocktail recipes with their choicest liquor and even know interesting facts about the origin of the wine. One of the other interesting aspects of Surface computers is that you can even take a virtual tour of the vineyard sitting in the iBar.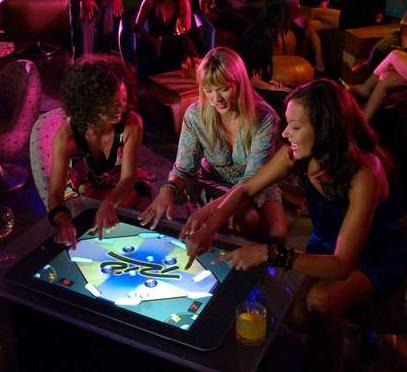 The application of Microsoft Surface was widely anticipated in the entertainment zone, as reports of its interesting hotels and restaurant usability made rounds since the inception of this tabletop computer. It was perhaps this excitement, which led partygoers throng the Sin City Rio All-Suite casino bar in unexpectedly large numbers on the debut night.
Harrah's Entertainment cites this as an encouraging trend where entertainment and technology makes for a spirited cocktail. In fact, this can be considered as Harrah's, one of the strategic decisions to introduce Microsoft surface in the casino bar, which turns tabletops into touch-controlled computer displays; soon after telecom giant AT&T
registered success with it in retail stores.
The customized tabletop computer confirms Harrah's also comes integrated with a 'Flirt' feature. This not only lets people switch over original messages or choose from suggested come-on lines, but also opens up endless possibilities to entertainment and life.
A promotional feature for Microsoft Surface's debut in the swanky casino bar invites people to take a virtual stroll along the renowned Las Vegas strip sitting in the comforts of the iBar, besides spending time playing games over the computers or watch online videos.
This is in fact a successful convergence of technology and entertainment. As Tim Stanley, Vice President (Innovation, Gaming and Technology), Harrah's Entertainment Inc. puts it 'this breakthrough concept is aimed at giving a new genre of guests chances to discover unrestrained excitement'. However, not to forget, Microsoft's first $10,000 deal of the Surface technology product in the entertainment sector.