Samsung Galaxy S series is known for its most powerful smartphones and one of the similar is coming soon the Samsung Galaxy S6 and later the Samsung Galaxy S7 the beast.
On other hand, Samsung is also taking the Galaxy A series forwards, we recently met with the younger members of the family completely metallic Samsung smartphones (A3 and A5), and now the big brother of the series – Samsung Galaxy A7 is also available world wide. Similar to other models of the line it got a body made ​​from a single piece of aluminum, but still in front of us the biggest and most productive smartphone A-series. Samsung Galaxy A7 looks the same as the Galaxy A3 or A5, with the only exception that the diagonal of its screen has grown to 5.5 inches. If you don't know, we want to mention that Samsung Galaxy A series was launched as the experimental series and now Samsung Galaxy S series smartphones would be carrying the similar design and more metal and this applies to the Samsung Galaxy S7 too.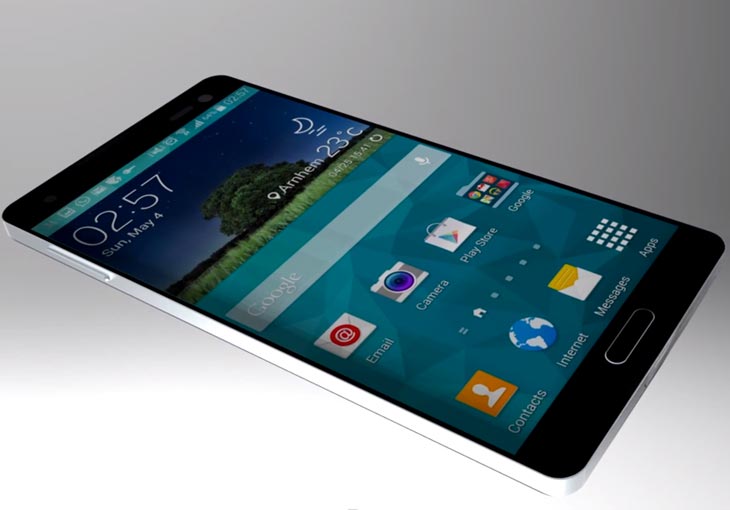 So, before going to the Samsung Galaxy S7, let's discover the Samsung Galaxy A7, in the design section, location of Controls are traditional: under the screen is a mechanical button "Home" on the sides of it, there are two touch-sensitive keys. Above the screen – the manufacturer's logo, thin speaker grille, proximity sensors and lighting, the front camera lens. The front panel has a small dot pattern, a little refreshing its appearance. As with all devices Samsung, volume rocker is on the left side, and the power button on the right. There is also a two trays. At the bottom we establish the basic format NanoSIM, and in the upper – memory card or the second NanoSIM. In theory, this approach is universal and gives the user a choice, but it did not appreciate at the same time wishing to use two SIM and memory card, because have to sacrifice something. And same design could be seen in the leaked photos of Samsung Galaxy S6 and now question is, would there be the same design in the Samsung Galaxy S7?
And if talk more about the Samsung Galaxy A7, the connectors is focused on the bottom – a MicroUSB and 3.5 mm headset jack. At the top and bottom edges of the holes have microphones. On the back – noticeably protruding lens camera with flash and speaker. Samsung Galaxy A7 is available in three colors – white, gold and black. White color is pearl shade, black is actually a dark blue and gold can be called and light bronze. And we expect more colors in the Galaxy S series smartphone, may be S6 would be launch with limited color profiles but fans won't agree at the limited color profiles at the Samsung Galaxy S7.