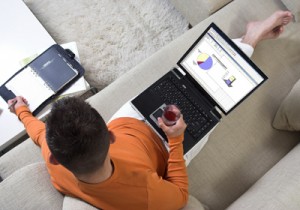 Businesses that thrive online more than offline are likely to be those that have a large number of telecommuter employees while having only a handful of staff to manage in a small conventionally run office. Such cases could be found in companies that offer products or services that have to do with web technologies, design or professional consultancy. Employees working for such companies are usually hired along a telecommuter work set-up where most of the work is accomplished online in locations of the employee's choice.
Multiple Tech Infra
Most telecommuter set-ups are staged in the homes of telecommuter professionals or in alternative venues where pros find it conducive to do work not within the confines of a company workstation. For a company to be capable of efficiently operating under such a premise, the necessary online tech infrastructures need to be established and maintained in the long-term like the following:
Online phone system with business VoIP extension networks. A high degree of real-time connectivity must be present and this could be achieved via a strong broadband connection running in the system that could support the powerful business VoIP features and functionalities. Companies would have to extend the VoIP to a telecommuter's devices like smartphones, tablets or IP phones so that the connectivity remains constant and reliable at all times.
Cloud computing apps and telecom systems. Cloud services for telecom, licensed software as service, and cloud storage apps that could allow file sharing with coworkers in various other remote locations are also necessary so that work collaboration could be done online to negate travel or legwork. Correspondence and paperwork also becomes efficient minus the common hindrances of physical distance and location.
Mobile devices that are in sync with desktop devices. The data and information that telecommuters and their remote location coworkers share with each other could be transmitted and accessed via various modes like those done via smartphones, tablets, phablets or PCs. Telecommuters need to have their various devices in sync with each other regarding data and info to save on the time and trouble of cross-referencing these while in the process of collaborating with peers.
The Main Frontier
You could only correspond efficiently with any telecommuter pro under your wing once all of them happen to be on the same telecom page as everybody else in the loop. Any collaborative work to be done together with any of your telecommuter employees could also only happen once you are all using the same cloud computing apps and services.
Sharing files, for example, happens a lot easier when work collaborators agree beforehand about what cloud storage app that's best for everyone to be using (e.g. Box, Dropbox, Google+, etc.) so that transmission and access becomes conveniently reliable for all. Work files could also be handled together online via suitable apps that allow coworkers to view, sample, and revise files in real-time.
Smartphones, tablets, IP phones or PCs need to be in sync with coworkers' devices in terms of the capability for videoconferencing or online meetings. Since all work is done online, the prospects of face-to-face discussions could be very minimal or nil. The closest that those collaborating on projects could get to such would be through video or call conferences via services or apps like Skype, RingCentral, or Google Hangouts and the like.
Handling a telecommuter workforce becomes easier to manage once business owners become doubly keen on real-time, always on and readily accessible tech as the professional norm. The moment it becomes that, it soon becomes a way of life and nothing could be more convenient than such a business set-up.