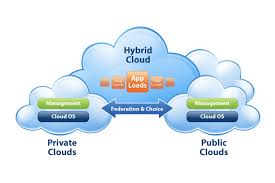 As the name suggests, a hybrid cloud refers to a computing infrastructure that is composed of two or more diverse types of clouds, like legacy, private, and community. In this design, each of these clouds upholds its distinct features as well as functionalities despite being bound together via a harmonized strategy for facilitating data portability amongst these systems. The strategies in hybrid cloud management allow the IT firms to obtain maximum usability, flexibility, and scalability while offering the critical benefit of reduced faults and errors. As a result, experts are of the opinion that hybrid cloud is ideal for firms that are looking for onsite resources as well as a secluded, server-based cloud model.
A hybrid cloud design is comprised of several dimensions. On a broader level, there are three different dimensions or options that make up a hybrid environment. In this post, let's explore the different hybrid options or dimensions that make up the architecture.
Public/Public
One of the most irritating issues with public cloud architecture is the service failure resulting in outages. This is evident with a few public cloud vendors due to which firms are now looking to distribute the workload across several clouds for mitigating the outage risk. In order to hedge, multi-cloud solutions are now highly demanded for deploying apps on different public clouds from different vendors, rather than on one cloud from a single vendor. Another justification for multiple cloud arrangement is that a few public cloud providers do not offer services that can be gained from another public cloud vendor.
However, complexity starts when it comes to establishing and managing the connections to several cloud service providers. As a fact, there is no common mechanism for interacting with all services. This is because each cloud provider has its own technique for connection, different virtual machine, diverse file formats, and dissimilar service APIs. With different processes for management that can prove to be an obstacle for implementing several public clouds, the problem of complex management is bound to arise.
Public/Private
Some companies prefer to run a few applications in the private cloud that acts as a committed infrastructure hosted internally or externally for a single firm and the rest (less critical) apps in a public cloud that serves as a shared infrastructure hosted externally. This forms up public/private hybrid architecture. The main benefit of having this model is that the firm enjoys the best of both the worlds (public and private). However, the challenges here are how to ensure proper integration and how to tackle security across different clouds. These issues are due to the barriers such as different providers, lack of standards, and varying levels of security in the prevalent apps.
Legacy/Clouds
This model involves integrating the legacy system and the cloud services. It is vital for many companies because there are still backend operations that execute in legacy environments. Even here, the challenge is to integrate legacy systems with apps in the cloud. As a fact, the developers need to code the scripts as well as create an infrastructure for managing personal integration.
Bio: Jacob Clayton is a software engineer in an IT firm that is recognized by its dynamic cloud solutions for a variety of business niches. He now has an experience of over five years in the software field. Jacob has worked with several types of enterprise application models as well as strategies. Right now, he is concentrating more on cloud computing by researching on topics such as strategies in hybrid cloud management and cloud automation tools. This is because he has been assigned a project on cloud computing by his firm. Apart from being an engineer, Jacob is also a writer who loves to posts on these technical topics.